Student Council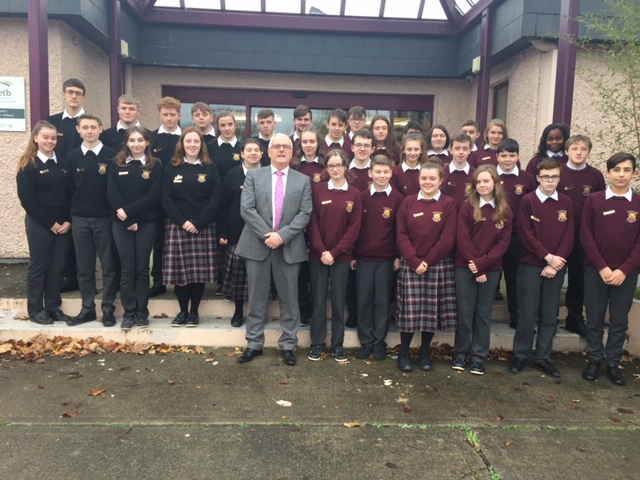 '...Of the Students, by the Students, for the Students...'
Student Council Information
The Student Council in St Farnan's is made of students from every class group from every year in the school – we need everyone represented on the council.
Each class will elect a 'Rep' or representative and a substitute to cover and help out when needed – the rep will need to be a voice for the entire class but they will get lots of training and support from the rest of the council and their teachers.
Each class will elect one female and one male student to be the rep or sub.
The Student Council in St. Farnan's will do the following work over the next year of school:
Listening to students opinions about school life in St Farnan's PPS
Representing students' views
Collect and provide information
A resource for fellow students and staff and parents
Support for your peers – helping with issues such as bullying and other social issues
Learn a lot about working as part of a group – organisational and communication skills
Improve school atmosphere, conditions for students and relationships in the school
Make links with the wider community
Help to improve school facilities and the school experience for everyone
Take part in projects to raise awareness and help chosen causes
The Student Council in St Farnan's will meet frequently and be supported by teachers as much as they need.
During the last academic year, the Student Council was a strong voice in the school community's discussions of the Healthy Eating Policy, the new school uniform, supporting positive mental health and encouraging participation in extra-curricular activities, amongst other issues.
Student Council 2018-2019:
Chairperson: Sarah O'Rourke
Vice-Chairperson: Jake Gillick
Secretary:
Student Council Membership:
1st year: Faith Agbele, Charlotte Harte, Alix Michelle Gaynor, Corey Talbot, Nicolas Milos, Jamie Jordan
2nd year: Sandra Kenny, Ellie Connolly, Annie Cross, Jessica Redican, Vincent Swords, Nathan Hersey, Max Mackey, Jake Lawless
3rd year: Megan Farrell, Lauren McArdle, Zoe Carew, Cal Swords, Mark O'Rourke, Kyle Butler, Jake Kress, Eoghan Ashe
TY: Lucy Shortt, Eoghan Kenna
5th year: Molly Donoghue, Sadhbh Carew, Hannah Doherty, Aoife Feane, Audrey Brady, Robert Calally, Jake Gillick, Michael Hurley, Maciej Berg
6th year: Niamh Clare, Sarah O'Rourke, Niamh Roche, Jay Dwyer, Rian Maxwell, Jack Herbert, Shane Kiernan
- Among the issues already identified by the new Student Council membership for discussion this year are Healthy Eating Initiatives, supporting positive mental health, charity jersey days for fundraising for various charities and a review of extracurricular activities.